Were you wondering if I would ever finish the headboard bench my daughter's friend Jason asked me to make?
It's done! 
Really and truly.
I just need to deliver it.
Heck, even I was wondering if I would ever finish it! 
You see, in case you hadn't noticed, I have this awful habit of setting a project aside once I hit a snag with it.  
And sure enough, with Jason's headboard bench I hit a few many more snags.
Let me refresh your memory, I had first used a poly shades stain and poly in one, with very bad results.  I then had to completely sand the entire bench again to get rid of the ugly botched finish. 
The second stain came out great! 
That was the last time I wrote about it.
That's when I started hitting the snags. This time with the polyurethane finish.
After putting the bench in time out for a while (it festered in the far reaches of the garage for many weeks) I finally mustered up the energy to get back to it and finish.
I'll spare you all the gory details, (hint, they involved even more sanding and re-staining!)
Somewhere along the way I managed to cover the seat cushion with the really beautiful, super heavy upholstery fabric Jason had bought for this piece.
I must say, I was pretty intimidated by the quality of this stuff! (and we all know I can't sew for beans!)
Here's a photo of the fabric taken in daylight.  The colors are so beautiful.
Jason decided throw pillows in the same fabric would complete the bench, so I picked up a couple pillow forms and sewed a basic cover for each. 
Nothing fancy here.  My sewing machine didn't much like going through the heavy material.
Sorry about the glare, I had to do a photo shoot in the living room with some floodlights added.
The house has just been so dark lately and I didn't want to drag this outside and risk scratching it.
The fabric colors look totally different in this light!
This is how the bed looked originally.
And here she is today.
I don't think I'll tackle another refinishing project soon. 
This one totally kicked my butt.
I sure do hope he likes it!
Linking up to these fun parties:
Catch as Catch Can at My Repurposed Life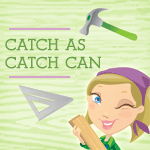 Furniture Feature Friday at Miss Mustard Seed's
Saturday Night Special At Funky Junk Interiors