It's not that I haven't done any projects lately, it's more the picture taking that's getting in my way.
I've got several things I've finished recently, but not a decent photo of anything. 
I really hate the fact that summer is coming to an end, why, it's still dark at 6:30 am here!
And forget about doing anything after work, daylight is gone by 7pm.
Not exactly great conditions for taking project photos, know what I mean?
This little makeover was a quickie, done before I even knew it.
Remember the haul I got from my daughter's friend, Jason?  The one who wanted the headboard bench made in return for the goodies?
(the bench which, btw, is still here, waiting for pillows to be made before I deliver it back to him)
In that assortment was this old plant stand. 
He had picked it up from the curb with all intentions of fixing it up. 
The top was broken off, if you look at the photo above the round top is on the chair. For the before photos I just balanced the top on the base to take the pictures.
T
The finish was in real rough shape.
Of course I forgot to take pictures of the fixing; basically I secured the top back on by replacing the broken part with a new piece of wood and gluing it all together.
The base was then painted with Glidden "True Turquoise" in satin finish.
I got a free quart back a couple months ago when Glidden had an online promotion, you could pick any color you wanted.
I really just slapped one coat on, then sanded it back along all the edges to show some of the wood tone. I thought I would have to rub some stain on it too, to tone it down, but the sanding did the trick. 
A coat of wipe on poly over the paint to give it a sheen and it was done!
The top got sanded down really well and then stained with a Mahogany gel stain.
Several coats of wipe on poly were added to protect the finish.
After I painted the piece I noticed the base was very wobbly as the pillar part was very loose. 
It  pulled apart easily.
See all the old glue residue? 
It's important to sand that all away before adding more glue.
I used Gorilla wood glue to reattach the base. 
Clamping it and letting it dry overnight did the trick, no more wobbles.
Here it is as a clock stand.
(Nosy Katy decided to get in on my photo shoot.)
Let's try it now with a plant….
OK, so it's a fake plant, that's all I can grow!
Here's a side by side Before and After:
I'm really not sure what I'll use it for yet.
Suggestions would be greatly appreciated.
;)
Have a great day!
Linking up to Catch as Catch Can at My Repurposed Life
Check it out!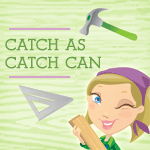 Joining Stephanie Lynn's Sunday Showcase party too!