Remember this rack I picked up last month? (If not, you can read about it here.)
I've managed to do one thing with it so far.
This was so simple:  I just took the rack apart, cut the side panel (the HONEST) just above the N, and added a scrap piece of wood for the base.
(Yep, I still have the HO set aside.)
After spraying the entire piece black, I decided I wanted some color..
So I went back and taped the side bars and sprayed the rest of it with a light blue color I had on hand.
It's called Tidepool by Krylon.  The only problem I had with it was the gloss finish.  Too shiny for my taste.
A
Sanding the letters down took care of that little issue and brought out some of the black base coat too.
After that I added a little bit of rust glaze wiped on and off with a damp paper towel.
Did you see that big paint drip on the T from the spray paint?
All the sanding in the world wouldn't make that go away.
Oh well….
As you can see, I tried my hand at rearranging the mantel for spring.
Not great, but it works ok for now.
I've been on a bit of a mission these days to lighten up my very dark living room for spring.
Especially since I introduced the new coffee table in all it's dark wood glory!
Today I'm going to meet up with Kolein to deliver her prize package. 
I'm so excited to get to meet her in person!
I'm linking this thrifty Nest sign to Nifty Thrifty Tuesday at Coastal Charm.
Can't forget Catch as Catch Can over at My Repurposed Life…I just love that party!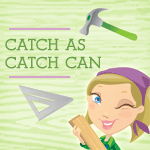 I'm also linking to Everything but the Kitchen Sink at A Little Knick Knack