I really haven't done much in the way of curbshopping or thrifting in the last few months. I'd like to say I gave it up entirely (actually, Mike would like me to say that) but I'm actually just biding my time, waiting for the weather to change and maybe for my garage to clear out some.
I did, in a very weak moment, stop at the local Salvation Army one afternoon a couple weeks back. I hadn't really planned it, I was passing by and suddenly my car turned into the lot! What the heck, while I'm there I may as well go in and look around, right?
As I approached the furniture section I spotted something interesting..
Upon closer inspection it proved to be a swivel stool, probably a piano stool.
It had a most interesting shape to the top, and the cast iron legs instantly won my heart.
A quick look at the price tag; the date told me it had just been set out, OUCH, it was $24!
Rather steep for the thrift store, but then again, the prices have been creeping up over there.
I fished through my purse and found a $7 off coupon that hadn't expired yet.
That clinched it. I was going to splurge on this piece.
Me, the ultimate cheapskate, the one who wouldn't even buy new counter stools even though mine were chewed up and didn't match.
The one who wouldn't pay a dime for a new coffee table or new pillows for the couch.
But I pulled out my wallet, blew out the dust, and bought the piano stool anyway. It came to just under $19 with tax.
Isn't it funny, if this were in an antique shop I would have been so happy to pay the price.
But in a thrift store?
Oh well, I guess it's just perception.
I intended to redo the upholstery on it.
But yesterday I had the sewing machine out, along with my drop cloth stash, working on another project (yet to be revealed).
Somehow looking at the scrap pieces that were leftover I got a vision in my head of that piano stool wearing a pleated slipcover.
I was supposed to be putting everything away for the night,
Mike was waiting dinner for me.
Anyway, half an hour later there was a new slipcover on my piano stool!
(And dinner wasn't too cold to eat)
I just love drop cloths and my quick pleater tools!
I'll have to go back and take pictures in the light of day. I
was just so pleased with this I couldn't wait to show you.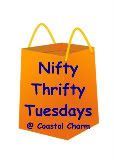 Donna at Funky Junk Interiors is having a
slipcover themed link for Saturday Night Special.
......I'm linking up!