Wow,  what a crazy wonderful year 2010 has been!  I'm kind of sad to see it end, to be honest with you. 
My friend Gail (My Repurposed Life) introduced me to the wonderful world of blogging when she started her own blog in July '09.  Until that point, I didn't really know what a blog was!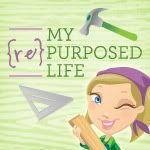 Then she asked if she could show some of my projects on her blog.  Sure, why not?
She even let me write a couple of the posts myself.
I was hooked!
So I started blogging myself last April, with lots of help from Gail.  (she was my very first follower too)
What a fun ride this has been!  I've met so many new friends along the way, and even met one in real life!  Deb, of Proper Prim came to see me, and it was one of those instant BFF things.  You just can't predict when that will happen, and I'm so grateful it did.
For this brand new year, I have settled on a few resolutions of what I want to improve on or do this year. 
#1
Top of the list? 
Meet Gail in real life! 
We have been best friends for 3 years now and have never met.  It's time, don't you think? 
#2
Next up?   To be a more regular blogger.  3 times a week at least is my goal.  Sometimes I have a hard time getting my act together and actually blogging!  I start posts nearly every day, then run out of time and never finish.  Perhaps if I kept them shorter….. ;)
#3
Continue Work harder to use or clear out the junk I have collected from all my curb-shopping adventures.  I still have a rented storage space chock full of all my treasures.  That doesn't even count what is in the garage, basement and house!  Does this mean I've quit curb shopping?  Nah, I'm just on hiatus, soon as I get my space under control I'll be back at it, for sure!  I'm just doing some reverse curbshopping these days!
#4
  Stop and smell the roses  peonies.  No, really.  Sometimes I get so wrapped up in my little projects and stuff I forget to enjoy the moment.  While projects are fun, so is spending time with my husband, family, and friends.  I need to remember to keep a balance in my life.  I just have to manage my priorities better.  Why I have friends I haven't seen all year!  How does that happen?
#5
Lose the procrastination habit. 
I had the best Christmas ever this year because I actually got ready a few days early.  That felt soooo good!  While I don't think I'll ever be one of those super organized get everything done ahead of time people, it would be great to at least reduce some of the stress of trying to do everything at the very last minute. 
#6
Last but not least, get better about visiting your blogs on a more regular basis.  And commenting more, and of course replying to comments.  I must confess, I get so far behind sometimes I just give up!   I'll do better this year, promise!
So there you have it, my New Year's Resolutions. (I can't believe I'm not including taking off all the pounds I put back on last year….)
How am I doing so far? 
For starters I managed to get all my Christmas stuff down and PUT AWAY (that's a first for me) yesterday.  Why, I even went thru and set aside a whole box of decorations I don't use anymore to go to the Salvation Army!
(and went to 3 parties this weekend, and got to 63% in my Stephen King book……)
Happy New Year!
Rose