I was absolutely smitten when I first saw these curtains in the Pottery Barn catalog. 
Love!
In typical cheapskate fashion, I started thinking "I can make that."
But I ran out of time when getting ready for our playoff party.
It was Friday night around 10pm when I finally  got around to putting the old drop cloth curtains  back up in the dining room after having taken them down for washing.
Too late to make another set of curtains.
Only I was still haunted by the Pottery Barn image.
How could I get this look?
I took a piece of leftover drop cloth out of the closet. 
And started ripping 2 inch strips across the width of it.
Just ripping.
After a few of these were done I cut each long strip into 4 shorter pieces.
These cafe rings are brass color, and don't go with anything.  But look at what a deal they were!  I always thought I would spray paint them.
No time to paint them now, but I'm using them anyway.
After slipping the rod through the rings and hanging it up I covered the rings by tying a knot over each with the strips of drop cloth.  If you look closely you can still spot glimpses of the brass rings showing.
It really dressed that window up!
I didn't think to stop and take a before shot, so this will have to do.  This next photo is how the curtains were hung originally.  (taken of the other window in the room that I didn't change.)
BEFORE:
And this is the new look.
AFTER:
Took about half an hour all told, but I'm glad I did it!!
The funny part is this; in the end it doesn't look anything like the Pottery Barn version, but I like it anyway.
I guess that's the difference between inspiration and copying!
edited to add:  I've since done a tutorial on making these in both a no sew and a sewing version.  You can check it out here.
Rose
I'm linking up to Cindy's Make it For Monday party at Cottage Instincts.
Joining the party at Gail's, check it out- anything goes!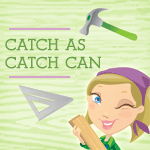 And since this qualifies as a textile; I get to join the
Air your Laundry party at Jamie's Freckled Laundry too!