Wow, I'm really missing my curbshopping these days.
I've been taking a trip down memory lane, going through my photo files, which desperately need to be categorized and cleaned out.
I came across this group of photos from June 2008 and decided to share them with you since I had never shown them before.
Some of this stuff I actually still have, some I haven't even used to date.
Maybe you could be a pal and help me out with some ideas for them?
Let's start with this. 
See this picture?  What do you think of it?
I love looking at it, yet have no idea what to do with it.
The blues are a little out of my preferred color range these days.
Yet I just love the way every inch of it has more details to see.
And the fact that it's WALLPAPER, not a painting, is pretty cool too.
I found 2 full rolls of this wallpaper at the curb, along with a bunch of other stuff that day.  Looked like someone was clearing out their parent's home, getting ready to sell.
What would you do with it if it were you? 
Would you install it inside a china cabinet?
Maybe as the backing for an old window?
Or cut it up and put the scenes in picture frames?
What would you do?
I had an especially grand time curbshopping that long ago day, going through the boxes and bags at the curb.
So far I've used these oil cans out in the garden for decor after spray painting them purple, remember my stairway to nowhere?
but I still haven't used  the lamp or the spikes.
I like the shape of the lamp, and will probably paint it. 
The leaf detail would still show, since it's raised. 
This wooden chest went back to the curb after sitting around for a year. 
It had a very strong odor to it that I just couldn't get rid of.  This thing spent many days out in the sun after being washed out. 
Too bad, it was cute.
I still have this wicker cat crate.  Isn't it the coolest thing?  Nope, haven't done a thing with it other than wash it.  It's full of old Avon perfume bottles at the moment.
The wooden bowl is long gone, it broke in two and pretty much disintegrated.
But I still have the enamel wash pan with the red trim!
Oh, scratch that, I used it in this door potting bench I made in April of 09.
It's long gone, I sold the potting bench at my garage sale that summer.
Oh well, at least I used it for something, right?
Thanks for joining me for my memory lane curbshopping trip. If you liked it let me know, I have plenty more pictures of past finds to share.
Don't forget to let me know what you would do with that wallpaper!
Rose
 Edited to add:
Looks like this is going to be a regular series….thanks for all the encouragement to keep it going.
Judging by the pictures I have left this should last a good long while!  ;)
I'm linking up to Gail's Catch as Catch Can party @My Repurposed Life.  Come join the fun!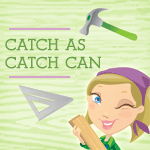 Also linking to Linda's Junkin Finds Friday @ A La Carte