I just spent two entire days in a 40" x 10.5 ft space.
No, I wasn't serving time for cutting lines on Black Friday or anything like that.  Heck, I didn't even venture out into the fray!
I was building shelves in my new storage space.
Good thing I'm not claustrophobic.
You see, the wall of doors looked great, but inside the space was still not very usable.  Oh, I know, I could just pile everything back in on top of each other, leaning against the wall and such, but really….that's what I was doing before and it didn't work out so well!
My goal in the first place is to get all the unsightly stuff out of the laundry area. 
Speaking of laundry, have I mentioned lately how much I love my new washer and dryer?
LOVE!
I really don't mind doing the laundry anymore. 
That's a total turnabout for me!
But I digress…
Back to my cell…uh, storage space.
You all know I'm terrible about taking pics during a project, right?  This time was no exception.
I know I'm supposed to, and I even had the camera in my pocket.
But I get working along and before I know it all the photo ops are gone.
So we'll have to settle for some very unsatisfactory pics of the before, then skip to the near end.
Sure wish I could have done that in real life!
First off, I started on the easy end, the one with no obstructions to the left of the doorway.
This is what that corner looked like before I even walled off the storage space.
This is what it looked like after I partitioned the area off.
So anyway, armed with some new 2x4's,  my framing nailer (I just love that thing) and whatever materials were in my basement already, I set to work carving maximum space out of the 40 inch deep room.
Simple 2x4 shelving, tied in to the existing wall framing did the trick here.
I gained 4 shelves of storage here! 
(This is the point where I finally remembered I had a camera and should probably take some pictures.  Oops!  )
After it was built I decided to paint the walls and framing….it would have been so much easier if only I had painted the dang walls before I started!
The paint made a world of difference.  You can see the line here…..
There was 16 inches of space between the door opening and the new shelf unit.  I decided to add some shallow shelves between the studs to hold cans of spray paint. 
I did not want to obstruct access to the new shelving on the end in any way!
Searching through my stash I found enough scrap wood to do the job.
Sigh, yeah, I know, that's a ton of spray paint!  I stock up on it when I find it for a dollar a can at my local Real Deals store.
I'm calling this end of the storage room done!  That concludes Day One.   
Tune in tomorrow for the continuing saga of storage shelving, part 2.
I'll leave you with this (not so) delightful  mess to contemplate…
This is why piling just doesn't work out!
Rose
Linking it up to Cindy's Make it for Monday at Cottage Instincts
And to Transformation Thursdays at the Shabby Chic Cottage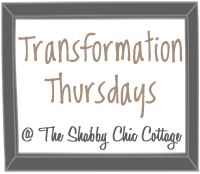 Gail's Catch as Catch Can Party at My Repurposed Life.  She's also giving away 2 rolls of Scotch Blue Edge Lock Painters tape to 8 lucky linkers, be sure to get over there and join the party!

Linking to Saturday Night Special @ Funky Junk Interiors
and to the Power of Paint Party @ Domestically Speaking