Last January I came across these guys one night.  Sitting on top of a snow bank at the curb.
With a very nice Free sign on them.
My daughter and I were on our way to a play.  She was driving.
And yes, I talked her into turning around and getting them.
She was so embarrassed!
Turns out Mike just hates these. 
Says they're tacky.
Really?
I don't get that.
I, of course, think they are wonderfully vintage!
Does  my tacky-meter need adjusting?
So I have to ask, would YOU have picked these up?
Would YOU use them to decorate  your house? (they're for outdoors)
Or are you shuddering at the thought?
I told him I would abide by popular opinion, so please let me know quick!
edited to add: Thank you so much for your overwhelming response to this cry for help.  Looks like I get to keep them after all.  I'll post some pics once I get them situated and lit up.  Right now we have like 2 feet of snow on the ground, so getting them outside will be a bit of a challenge!
Rose
I'm linking up to Cindy's Make it 4 Monday party at Cottage Instincts
and to Linda's Nifty Thrifty Tuesdays at Coastal Charm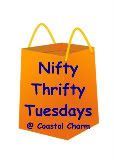 And to Linda's Junkin' Finds Friday @ A La Carte