I hope you all had a wonderful Christmas with your family and friends.  We really enjoyed our holiday this year, it was amazingly calm and I was totally ahead of the game!
Skipping the all nighter and actually getting some sleep certainly made all the difference in the world.
Did I ever tell you about my curbshopped Christmas trees?
A couple of years ago I was at my curbshopping peak.  There was nothing I wouldn't pick up if I thought it might be useful.
Including Christmas trees.
I've cut back a lot on curbshopping this year, mostly because I HAVE NO MORE ROOM!  Purging has become my theme of late, as most of you have noticed. 
And I'm also sticking to my use it or lose it rule.
Well, I had 3 curbshopped Christmas trees in my stash.
I've always had a live Christmas tree,  this year I decided to use my found trees instead.
The biggest of the lot was a fold down tree, in 3 sections. 
It must have been a pre-lit tree, as there were multi colored lights wound tightly around every branch.  They didn't work.
But this was really full and thick. 
So I cut the lights off.
It was actually very nice!
Back up to earlier this month.  I was cleaning out the basement and found my old wedding gown, circa 1980.
It had never been cleaned and the lace along the edges was dirty.   It needed to go, after all, that marriage was long over.  Then I stopped,  and wondered if I could use it for a tree skirt.  I've seen that done (can't remember where) and thought it was pretty.
So I threw it in the washer after spraying the dirty parts with Shout (what the heck, can't get any worse than it is already, right?)
And then the dryer…..
And it came out great! Edges were clean and white.
I simply unzipped the bodice and inserted the tree in the opening, zipped it back up and tucked the bodice and arms under the skirt.
I now had a pretty tree skirt!
My pal Deb at Proper Prim reminded me I still had these blown glass crystals off a chandelier I had found.  The chandelier was ugly, but I kept the glass.
I gave Deb a few when she was visiting.  She used them on her tree. 
Aha!  I decided to copy and pulled out the bucket and washed them all off.
There were so many and they looked so sparkly on the tree, I decided to go with a glass, silver and white theme right then and there.
Somehow a little bit of red snuck in.
My gold star tree topper didn't fit the theme.  It needed a bit of spray-paint to make it work.
Of course, I could not have a Christmas tree without my beloved Grinch on it.  It doesn't matter what color he is, Grinch is a must be.
Another of my curb found trees was a little 6 foot tree, still in the original box. 
This tree got set up on the sun porch, where it would be visible from the street and everyone coming in the house would pass by it too.
I call this the kid's tree, as the handmade ornaments made by the kids all found a home here amongst all my other favorites that didn't fit in with the white theme in the house.
This tree was surrounded with my vintage toy collection.  Many of them curb finds, garage sale finds, and thrift store purchases.
Some curb found ice skates,
This baby's wooden sled was a curb find too.  One of my dogs chewed on it this year.  See the fresh wood edge in the front?
Gotta have a Grinch to go with the tree!
The third curbed tree was a primitive style skinny down-swept tree with a bark trunk.  The built in stand was loose and the tree wouldn't stay up, so I nailed a square of plywood to the bottom.
This one got a simple garland of berries wrapped around it.
Please ignore the extension cords showing.  They are powering my lighted village collection on the mantel.
I'm going to keep my trees and decorations up until the 2nd.  After all, I had such a late start getting decorated I want to have a little bit of time to enjoy them before embarking on the dreaded task of putting everything away.
How about you?  Do you take yours down immediately, or wait a while?
Rose
I'm linking up to 2 of my favorite parties today,
Gail's Catch as Catch  Can @ My Repurposed Life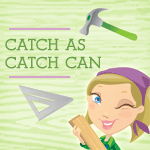 And Linda's Junkin Finds Friday @ A la Carte
Check them out!