Well folks, I managed to finish my second sewing project for the laundry room re-do. 
But before I show it to you, let me just give a special thanks to everyone who commented on my first laundry bin liner.  (click on photo below to read about that project)
Angie, from Sew it yourself slipcovers, was so pleased with my results and subsequent comments about the Quick-Pleater tool that she has very generously offered to GIVE a set of quick-pleaters to one of my very lucky readers!
How's that for a big thank you?
The set of 4 sells for $29.95, which, in my humble opinion, is a small price to pay for the ability to do something very simply that would normally be a big pain to do. 
Know what I mean? 
To enter, simply leave a comment on this post telling me what you would make with the Quick Pleater set if you win.
Don't forget to leave an e-mail address for me to contact you!
Entries will close at Midnight on Saturday, Nov. 20.  Drawing will be held on Sunday, Nov. 21. 
Got that?  Good!
Now let me show you the newest liner, for this very old, rickety, rusty, much used, shopping cart.
Love the traces of original blue paint still clinging to it for dear life.
This cart is to be used for sorting clothes in my laundry room.  It will hold sheets and towels, while the larger 2 compartment factory bin will hold whites and darks.
I used the one inch pleater tool this time, looking for smaller pleats as this cart is considerably smaller than the bin was.  I was afraid the 2" would be too large.
I had to approach the construction differently to make this liner work.  The rounded hoops at the top edge gave me pause.  How would I get the liner to sit right with those in the way? 
Ties maybe? 
Velcro tabs?
Hmmm…….
I decided to attach the ruffle to the liner from the top, rather than underneath like I did the last one. (see how I did the first one, below?)
It would mean the tops of the pleats would show, but I couldn't think of another way to do this.
I left a gap for each of the hoops to fit through.
It worked!  The liner stays perfectly in place with no ties necessary.
Not quite kosher, but it works for me.
A view of the inside.  Getting the bottom piece of the bag to fit was interesting to say the least. 
The way this thing is shaped made it tough to figure out how big to make it. 
It never occurred to me to trace the outline of the cart on a piece of cloth.  Gail mentioned that tip to me after I was done.  Duh!
So I cut a square of the drop cloth to approx the shape and size, rounded the corners with the scissors and started attaching. 
I got half way around before I figured out that I would have too much fabric left at the end.  At that point I cut some more off the part that hadn't yet been attached, and continued the rest of the way around, adding a couple tucks along the way to keep it the right size. 
Don't laugh, it totally worked out ok. 
Oh sure, it won't win any sewing contests,  but then again, it's only for holding my dirty clothes for Pete's sake!
Let's compare the 2.
First laundry bin pleats done with the 2" pleater tool;
Now the shopping cart liner pleats,  made using the 1" pleater. 
Totally different, aren't they?
I've put the old blue monster of a sewing machine away at last.  I've had my fill of sewing!
Don't forget to leave a comment to win your very own set of Quick Pleaters!
Rose
Linking up to the following parties;
Cottage Instincts' 'Make it for Monday'
DIY Showoff  DIY Project Parade
Blue Cricket Design's Show and tell Wednesday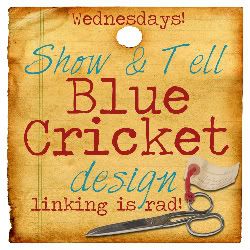 Sew Much Ado's We did it Wednesday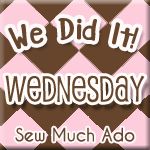 Make it Yours day at My Backyard Eden
Somewhat Simple's Strut your stuff Thursday
The Shabby Chic Cottage's Transformation Thursday
 Strut your Stuff at Saturday Mornings
Air your Laundry @ Freckled Laundry

Mustard Seed's Creative Blog Furniture Feature Friday
Perfectly Imperfect's Style Feature Saturday