I don't have a lot to reveal on my laundry room project. 
Got some things still cooking in there, but still only half baked.
This is one element I was able to finish. 
Remember I showed you the piece of ladder last week? 
I hung it across the joists using some metal strapping and it is now my clothes bar for hanging up the dry clothes as I take them out of the dryer.
Sorry I don't have any  good photos of it in use. 
I DID put it to the test yesterday and was amazed at how handy it was. 
I hung it so part of the ladder is over the set tub, and the rest is over the washer/dryer. 
Wet clothes can be hung over the sink to drip dry.
Unfortunately I can't show you any photos of the lower area yet.  It's a disaster zone due to work in progress!
Love the rusty metal brackets. 
Don't worry, I sealed them so they won't flake on the clothes!
Oops, forgot to add, this ladder was from a stash of curb found ladder pieces I had in my collection, so this little project cost nothing to do.  I  even had the metal strapping already.
Gotta go,
Rose
I'm linking this one up to Linda's Nifty Thrifty Tuesday party.  Can't get any thriftier than free, right?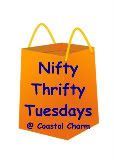 Also linking this to Linda at A La Carte's Junkin Finds Friday #3
and  Gail's Catch as Catch Can Friday link up.
She's hosting a great CSN giveaway for $110 gift card!
Check them out!