Well I noticed that Donna @ Funky Junk Interiors was having one of her "Gitter Done" link ups yesterday and that gave me the push I needed to go finish the vegetable planter I started on Monday.
On Monday I had quickly made 2 boxes with the boards, and cut some pallet wood to edge the sides.  But then I was out of time and had to leave it to finish another day. 
We all know how long another day can be in coming, don't we? ;)
Last night I braved hordes of mosquitoes that just did not seem bothered by the copious amounts of bug spray  I used.  Perhaps the label was wrong  and I was really using Mosquito Attractant?
Anyway, twitching and slapping like a mad woman I managed to finish assembling the darn thing just as the last bit of daylight was gone. 
Photos had to wait until this morning.
What I love about this is the materials I used.  These boards are the stair treads from the basement steps in the house I grew up in.  My brother-in-law replaced the whole stairway and made the treads deeper than the original so my mom would feel safer using it.
I wouldn't let him throw the steps away. 
Look at how the wood wore in the middle of the steps over the years.  For 55 years my Mom has lived in this house.  All 6 of us girls grew up here, running up and down those steps many times a day.   The playroom was down there, the piano, laundry and Dad's workshop.  It was also the way out to the back yard, since it was a walk out basement.
That's how those steps wore down. 
Ah….. the memories that come flooding back when I look at this planter. 
Yes, it would have been a crime to throw those steps away.
This weekend I will fill it with soil and plant some cool weather crops, lettuce being the first thing I can think of.
Do any of you have any suggestions?  It has to be a fast grower, as we only have a month or so before frost.
Thank you Donna, for forcing me to brave the mosquitoes and finally "Gitter Done"!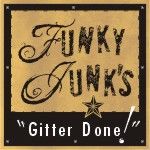 Rose