I didn't get any projects done Saturday, as the day was filled with things to do away from home from an early morning hair cut appt. to an outdoor Food Festival in the evening.  In between I got to spend some time with Mom, my daughter in law, read a couple of short stories and got caught up with an old friend I haven't seen in months.
It turned out to actually be a good day, but I generally hate it when my weekend project plans get interrupted like that.   
Whoa!
Bad attitude there, right?
Life is short, I need to look up and actually participate sometimes. 
Projects will be there tomorrow. 
Family and friends may not be.
I'm trying to be more flexible about my project lists and to spend some time actually socializing and enjoying the summer. 
So my to do list did not get written, and I stayed away from the computer for the most part, not even writing my Keep it Short Saturday post.
And it was a great day after all.
Now don't think for a minute I didn't manage a few moments to stop at a garage sale and for a little bit of curb shopping.
After all, Life is short, right?
My Garage Sale goodies
After getting my hair cut I stopped at a garage sale. 
Look at all the hardware they had! 
This was my kind of sale.
A quarter for a couple sturdy corner braces?  Sold!
I almost didn't get the carved wood drawer pulls as one was broken but changed my mind and grabbed them after all.
Never know when a wheel might be missing or broken.  For 50c these were a good buy.
Spent $5 on these bin pulls, a lot of money, but I really love the look and have you ever priced these?  This was a bargain!
Love the round plates with the pull rings.
Once painted, these brass pulls will look really great.
I'm a sucker for drawer pulls, and hate to buy new.  For $10 total I got all these to add to my stash. 
And they threw in the book too.   I can't resist a good short story collection.
Free
This bedspread was in the Free box.  Some of it had been cut off already.
Check out the peacock design.
A close up.
I love the heart design with flowers, and the purple and pink colors.
I see some throw pillows here.
My curb finds
On the way to my appointment I drove past this mess.  Somebody must have left this place in a hurry and not taken their furniture.  Perhaps they didn't pay the rent?
I picked up the wooden end table.
 And then I spotted this desk.  Look familiar?
Pretty similar to the one I got at the thrift store  just a few weeks ago.  I could have saved that $1.50!
This box is metal and must have belonged to a musician most recently.  It had parts from a drum set inside.  (at least I think that's what they are)
The foot pedal is pretty cool.
I've managed to get most of the stickers off so far and empty it out.  See the list of contents?
There is a metal plate on the outside of the box, hard to read because it was painted over, but something about property of Air Traffic Control.  So I guess this was an equipment storage box. 
So all in all, even though it was a no blogging  and no projects Saturday, I still had a great day!
How about you?
Gotta go now, it's trash day somewhere….
Rose
I'm Linking up to:
Rhoda's Today's Thrifty Treasures Party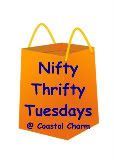 And Linda's Nifty Thrifty Tuesday