Edited to add:  Yay!  I can finally join Coastal Charm's Nifty Thrifty Tuesday party!  If you came from over there, Welcome!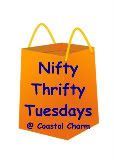 As you know I've been having a dry spell for curbshopping.  Some of that was self imposed since with moving my storage space and all I realized just how much stuff I really have. 
So I did drive around with my eyes shut for a while….Thankfully I didn't hit anything.
But.
Saturday was 50% off day at the Rescue Mission thrift stores.
There was a big ad in the local paper.
I was not going to go.  Nope.  No way.  Don't need anything.
I went. 
I swear my car just drove there all on it's own.
I spent $10.80.
This is what I bought.
Wooden School Desk  $1.50
Ash tray stand? (not quite sure, but I think it must be) $2.50
I love the 2 tone striped wood finish on this.  I think it would look cool with a round glass top, maybe something precious displayed under the glass in the bowl area.
The school desk would make a great nightstand.
Loved this metal flower shaped basket. $1.50
4 black plates $1, a painted metal apple .50, a lantern sconce $1, 2 painted terra cotta pots .80, a prim caged bird $1, AND 2 birthday candles $1. 
5 0, I couldn't resist, it's like they were expecting me.  If we don't use them for my birthday I'll save them for my younger sister.
This picture shows 10 items I got for a dollar at a garage sale I stopped at.  Hard to see, but there are 3 frames, a wooden folding ruler, a brass duck wall hanging, a heavy metal ruler, a rusty metal hammer, a set of Allen wrenches, a leather covered road atlas, and a metal shelf. 
The metal shelf is my fav.  I would have paid the dollar just for that.  The other things were just bonus items.
Then I picked up my Mom at her house to go out to dinner just the 2 of us, and I couldn't resist a little curbshopping along the way. 
She thinks I'm a nut!
Someone had left all their leftover garage sale items at the curb with a free sign. 
I picked up this Eureka canister vacuum cleaner (it works perfectly and even came with extra bags and all the attachments) 
2 pairs of ice skates,
A very tall wrought iron candle stand,
3 very nice window shades with fringed scalloped edges,
An old dictionary, a brass 2 sided mirror, 3 tiny blue plates, a marble hand soap dispenser, a small beveled mirror and a picture stand,
(You can see all the price stickers still on these.  $5 for the dictionary!  No wonder it didn't sell!)
A wooden nut bowl,
a small lidded Pyrex dish, a large Pyrex mixing bowl, heart shaped basket and a set of chopsticks with 4 leaf shaped wasabi plates.
I like free garage sales!
A couple blocks further on I found this at the curb--
the tile topped mosaic stand is in pretty rough shape, but I loved the shape of the legs on it.  One of the legs was detached.
And then I found this----
The white chair was just too nice to pass by.  Check out the paint finish on the seat.
At least I didn't get anything big, right?
How about you, any good finds this week-end?
Gotta go now, it's trash day somewhere!
Rose
I'm linking this up to Coastal Charm's Nifty Thrifty Tuesday #13!  Be sure to hop over and check out the party!